Ready for take-off to the heart of innovation, accompanied by the 10 winners of our contest. Get ready to meet these entrepreneurs that have had the courage to change. Like real chameleons, they have managed to adapt to an environment that is constantly changing. They set a good example for all other companies. That's why the Change League is taking them to recharge their ideas in the ideal setting that Silicon Valley has to offer. Discover our program and follow our guide…
"We've just visited a giant laboratory in which people are using things on a daily basis that we thought were barely at the development stage"
Yves Warnant, CEO de Dauvister.
Day 3 – Thursday 16/11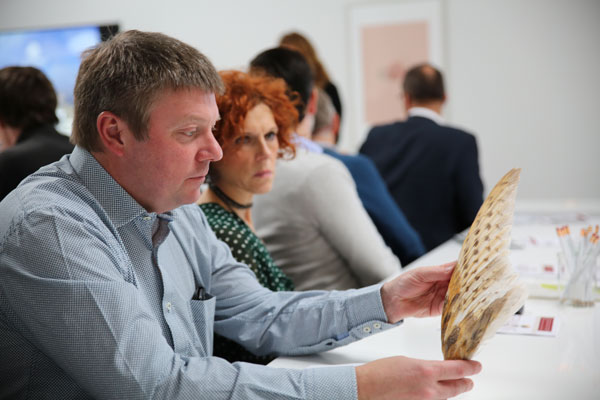 Launching the last day of our #ChangeLeague tour by asking ourselves the question: how can we learn from nature to evolve, grow and communicate? An interesting session on biomimicry by Dr Tasmin Woolley Barker and Yeshua Adonai.
After the biomimicry it was time to go shopping.Nick Romero welcomed us to his b8ta store to explain its special approach. Customers get to try out the products, so they know exactly what they're buying. The retailer, meanwhile, receives instant feedback on how consumers are responding to the merchandise. Might Marina Vanstipelen (Head of Core Banking BNP Paribas Fortis) be tempted?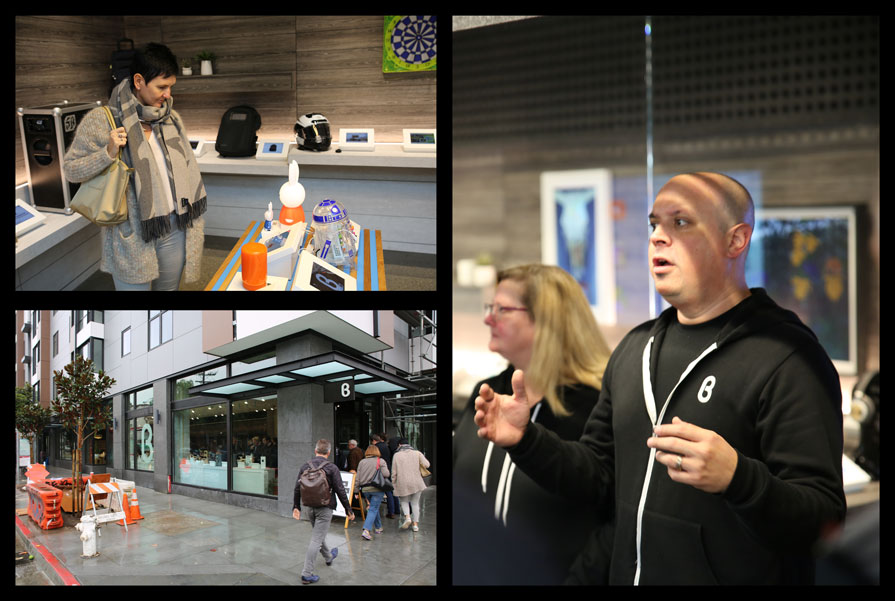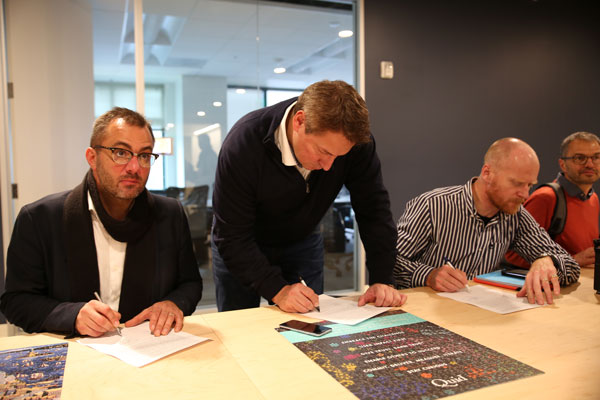 After lunch, we plunged into the world of data, with a visit to Quid and impressive presentations by Ian Gamble (director) and Ryan Kim about... well actually, we're not allowed to say. Confidentiality is crucial. So much so, we had to sign non-disclosure agreements. If data means money, protecting it is golden.
Day 3 – Wednesday 15/11
Some serious study today as we find ourselves in the hallowed halls of Berkeley University. We're good students. Some take notes, others pay rapt attention or look duly impressed by their surroundings. Today's presentation is all about artificial intelligence (AI) and its potential strengths and issues. Our host is Prof. Pieter Abbeel, who talks about his research in the area of robotics and machine learning. The field he introduces is technical but fascinating, and confirms that change is all around us: Today, tomorrow and the day after tomorrow… right, Steven?
At lunchtime, we chow down in the best American style, while surfing on our smartphones. There's no real meat in our 'Impossible Burgers', but you'd never guess from the taste!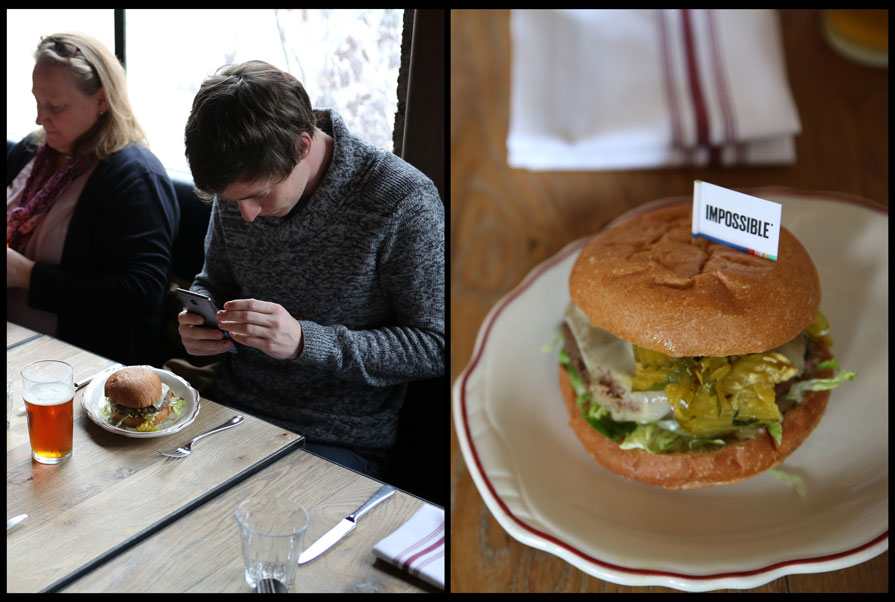 There's more food on the programme for this afternoon too. We head off for Hampton Creek to visit Just that has the ambition to become one of the largest food communities. After touring the site, we join in the preparation of several creations, including the company's famous cookies and 'Just Mayo'. We immortalise the moment, but we're not sure we'll be able to do it ourselves back home... Thankfully, you don't need to be an expert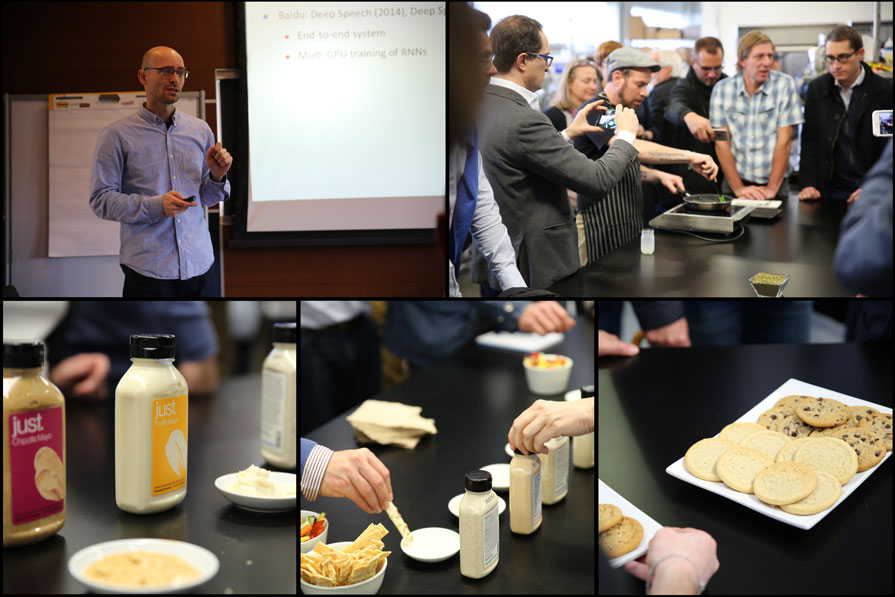 Next up is the Avametric start-up for a presentation on augmented reality (AR). The company has developed an application that lets you try on clothes virtually and see which outfit suits you best. You can effortlessly adjust the size, colour and cut. It's a fun approach, though not revolutionary.
We reconvene in the evening for dinner at Feastly, where the chef charms everyone with his refined Japanese dishes and infectious enthusiasm.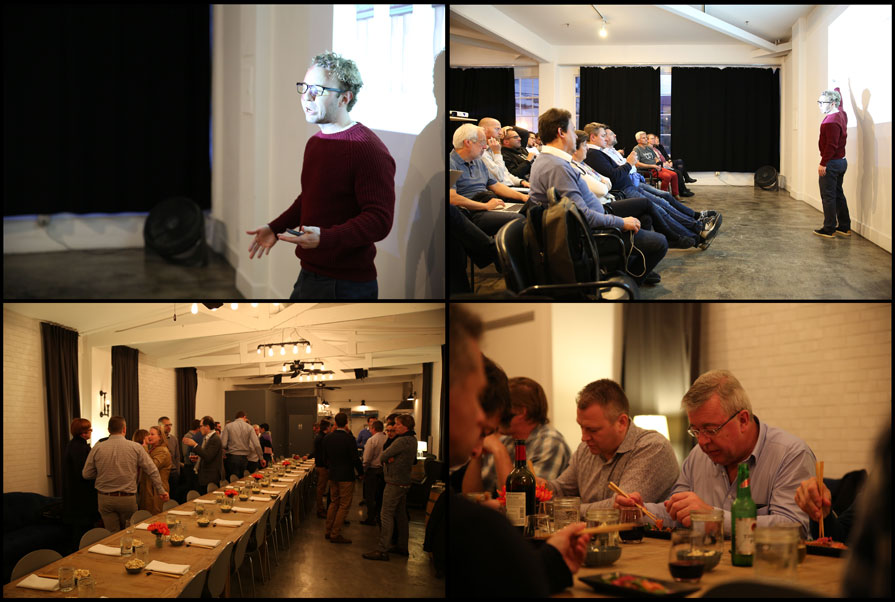 Check out the pictures of our day :
Day 2 - Tuesday 14/11
Here's a quick recap of day one (video):
Day 1 - Monday 13/11
Here's a quick recap of day one (video):
Twitter Feed
Eagerly awaiting our departure!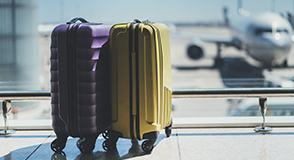 This Sunday, November 12th, the winners of our Change League contest will be leaving for Silicon Valley. Time of departure at Brussels International Airport: 11h55. Time of arrival at destination: 20h33 (local time). They will be accompanied by two change gurus: Peter Hinssen and Steven Van Belleghem. Didier Beauvois, Head of Corporate Banking BNP Paribas Fortis will also be joining them on their trip. Are you ready to get inspired by our journey? Follow us here, from Tuesday onwards, to get the scoop on the first Change League journey. Or follow us on Twitter via #ChangeLeague.
"Businesses, including our bank, need to adapt continuously within our ever-evolving society"
Didier Beauvois, Head of Corporate Banking BNP Paribas Fortis.
Monday
Singularity University - Daniel Kraft
The Future of Health and Medicine: Where Can Technology Take Us
Daniel Kraft is a Stanford and Harvard trained physician-scientist, inventor and entrepreneur.
Dr. Kraft has over 25 years of experience in clinical practice, biomedical research and healthcare innovation. Daniel is the Faculty Chair for Medicine & Neuroscience for Singularity University and is Founding Executive Director for Exponential Medicine, a program which explores convergent, exponentially developing technologies and their potential in biomedicine and healthcare. His various TEDTalks have over 1 Million Views. Daniel was recently named a member of the inaugural class of the Aspen Institute's Healthcare Innovator Fellows.
"Following undergraduate degrees at Brown University and medical school at Stanford, Dr. Kraft was board certified in the Harvard combined Internal Medicine and Pediatrics residency program at the Massachusetts General Hospital and Boston Children's Hospital. He went on to complete Stanford fellowships in hematology/oncology & bone marrow transplantation, and extensive research in stem cell biology and regenerative medicine.
Dr. Kraft is the inventor of the MarrowMiner, an FDA approved device for the minimally invasive harvest of bone marrow, and founded RegenMed Systems, a company developing technologies to enable adult stem cell based regenerative therapies. He serves as an advisor to the X-Prize, Nokia, Qualcomm Life, and a variety of healthcare startups."
Runway - Joe Vasquez
Introduction by Joe Vasquez
Runway is a technology innovation hub bringing together entrepreneurs, startups, VCs, mentors, Fortune 500 Corporations, and industry experts. Located at 1355 Market St. (Twitter HQ), we provide coworking space to entrepreneurs, accelerator programs for high-growth startups, corporate innovation services to global companies, and event programming.
Joe Vasquez : "At Runway, my time is split between two functions: managing the Michelson Runway education technology accelerator and working with global corporations to expand their external innovation capabilities and startup networks through M&A and BD opportunities. At the end of the day, my goal is to continue to build Runway into the go-to innovation ecosystem for startups, investors, and corporations hell-bent on changing the world. I'm fortunate to work with some of the brightest and most passionate people to make this a reality"
Consensys - Alessandro Voto
Decentralized applications for blockchain ecosystems
ConsenSys is the largest organization in the world dedicated to Ethereum and the Web 3.0.
Alessandro Voto is a West Coast Regional Director for Consensys, a Brooklyn-based blockchain technology venture studio. Alessandro connects organizations and social entrepreneurs with the San Francisco Bay Area blockchain community to build decentralized applications and services.
His focus lies at the intersection of economic design, peer-to-peer technology, and social change."
Tuesday
Crowd Companies - Jeremiah Owyang
Innovating with new technologies to reach your customers
Founding Partner at Kaleido Insights & Founder of Crowd Companies, Innovation Council.
Jeremiah Owyang leads Crowd Companies, a council for large corporations who want to lead in the Collaborative Economy (sharing economy, maker movement and co-innovation).
Gigster - Benny Du
Gigster is an AI-enabled, on-demand software development platform powered by a fast growing network of 1000+ top quality freelance developers, engineers, designers and product managers.
Benny Du is Partnership Coordinator at Gigster, which is the easiest way to build custom software, combining the world's best developers, product visionaries, and industry-leading tools into a single, powerful platform
L'atelier - Bank of the West
With its forward-looking vision and extensive experience in understanding the digital economy, the role and mission of L'Atelier BNP Paribas is to assist the BNP Paribas Group and its clients in formulating the right strategy to address and take advantage of current and future change
Reason
Reason is pioneering a new category of escape rooms that fuses future technology exploration with physical teamwork through a carefully crafted immersive experience. In this digital age we believe it's important to humanize our connection with tech and with each other.
Wednesday
Berkeley - Pieter Abbeel
The power and challenges of AI
Pieter Abbeel received a BS/MS in Electrical Engineering from KU Leuven (Belgium) and received his Ph.D. degree in Computer Science from Stanford University in 2008.
"Pieter Abbeel received a BS/MS in Electrical Engineering from KU Leuven (Belgium) and received his Ph.D. degree in Computer Science from Stanford University in 2008. He joined the faculty at UC Berkeley in Fall 2008, with an appointment in the Department of Electrical Engineering and Computer Sciences. His research focuses on robotics, machine learning and control. In 2014 Pieter founded Gradescope, a web-app that streamlines grading, with instructors reporting it allows them to grade 2x faster while also improving accuracy, consistency and transparency, and without compromising on assessment format. It's free, you should try it out if you 'd like to spend less time on grading without compromising on quality! "
Eat Just (vroeger Hampton Creek)
Eat Just is an American food company headquartered in San Francisco that sells plant-based foods. It was founded in December 2011 by Josh Balk and CEO Joshua Tetrick. With around 110 employees, the company's products include mixes, dressings, cookies, mayos and cookie dough.
Avametric
A beautifully advanced way to find your right fit. The Avametric software platform provides automated content creation for brands, retail & e-commerce sales tools, and increased efficiency in garment design & development. We are proudly backed and supported by our lead investors at Khosla Ventures. Speaker of the day: David Jackson founder and Chief Technology Officer at Avametric.
Dinner @ Feastly + networking with Speakers
"Feastly is a peer-to-peer platform that empowers any chef to host a meal whenever, wherever. We believe every kitchen in the world is a potential restaurant. Through Feastly eaters can discover and attend these unique meals from the best Supper Clubs, Pop-ups, Professional Chefs, and Home Chefs all over the world "
Thursday
Biomimicry by Yeshua Adonai & Tamsin Wooley-barker
Inspired by nature - systems thinking at another level
CEO & Founder at Systemic Innovation empowering leaders design regenerative organizations inspired by nature.
Yeshua Adonai : "As coach, educator, & entrepreneur I empower leaders evolve their life & business. I use my eclectic experience developing thriving organizations to enable others do the same. Projects I've built positively touch Millions globally within business, non-profit, and government in the arts, media, education, health, environment, food, water, mobility, energy, governance, and peace. I have an interdisciplinary background; as a U.S. Marine Staff Sergeant, U.S. Department of State diplomat, touring musician, urban monk, movement builder, community organizer, conference host, technologist, and founder of social ventures and non-profits. I'm pioneering a new field at the leading edge of social innovation integrating biomimicry, regenerative development, and mindfulness.
Student of life learning from nature to create a more harmonious, sustainable, interconnected, collaborative, resilient, and regenerative world.
I recently moved to San Francisco to make home after the last 15 years exploring the world. I'm a vegetarian, meditation teacher, active autodidactic, care for health, and enjoy spending time outdoors. Few key significant events that enriched life; near death experiences, Iraq war, extended meditation sabbaticals, marriage/divorce & raised a teenager, backpacked California wilderness PCT, and international living. Constantly seek to live a more enriching sustainable/regenerative lifestyle and practice a life of compassion. Let's connect and create a thriving world for all life.
Core competencies: strategist, social architect, regenerative systems designer, transformational executive coach, humanistic perspective, wholistic sustainable lifestyle, energy healer, mindfulness student/teacher, & workshop facilitator. Certified Regenerative Practitioner by Regenesis Group. Ms Biomimicry (ASU, 2017)."
Tamsin Woolley-Barker : "Innovative Solutions Inspired by Nature"
Dr. Tamsin Woolley-Barker is a BioInspired Innovation Consultant, Researcher, Professor, and Author. She is an independent Biologist at the Design Table with organizations like Biomimicry 3.8 and the Biomimicry Institute, and a frequent contributor for The Biomimicry Institute's AskNature website. Her book, TEEMING: How Superorganisms Work for Infinite Wealth in a Finite World is available from White Cloud Press.
Tamsin has degrees in Plant Sciences and Fine Art from UC Santa Cruz, Biomimicry from Arizona State (where she also teaches), and a doctorate in Evolutionary Anthropology from New York University. Her experience with living systems is diverse, including work as a Marine Biologist in Alaska, a Primatologist in Ethiopia (tracking and trapping wild baboons), a Population Geneticist, and a Biotech Genomics Scientist. Her passion for living systems is complimented by an extensive background in business, design, and sustainability, with 12 years as co-founder and CEO of a successful Media Arts company, sold in 2011. She has worked in Biotechnology Marketing, Corporate Sustainability Reporting, Leadership Development, and as the Content Developer for the California Association of Museums' ground-breaking Green Museums Initiative, a program which has since gone national.
A prolific writer, she contributes regularly to various magazines, including 'Digital Magazine of the Year' finalist Zygote Quarterly, Triple Pundit, and GreenBiz. Her regular column, 'The Biomimicry Manual,' appears on Inhabitat.com, a sustainable design magazine with a circulation of over 3 million. She is also a co-founder of Biomimicry San Diego, an organization promoting innovation inspired by nature, and Chief Scientific Advisor for MycoMesh, a social purpose organization dedicated to developing a bio-inspired platform for collective action."
B8ta
b8ta is a software-powered retailer designed to improve the customer and maker experience. We help people discover, try, and learn about new tech products while empowering makers with a simple retail-as-a-service model that puts them in control.
Nick Romero Possessing nearly 20 years of experience in the luxury retail field, as well as having a strong understanding and appreciation for many styles and types of design uniquely qualifies me to work well in specialty retail. "My background in all aspects of interior design and retail management enables me to be able to hit the ground running. I have worked extensively with everyone from large furniture manufacturers to reproduction studios to local artists and craftsmen. My philosophy is to build mutually respectful relationships with customers, employees and vendors to achieve amazing results. I am also experienced with online sales management, POS systems and other computer-related tasks".
Quid - Jonathan Whetstone
Quid is software that reads millions of documents and offers immediate insight by organizing that content visually. We power human intuition with machine intelligence, enabling organizations to make decisions that matter.
Jonathan Whetstone : "Builds and manages all of the financial services relationships for Quid, a SAAS company that helps businesses become more strategic about everything. In this role I work with all types of organizations to not only help with the business development of their strategic goals, but also advise on strategic efficiencies which is vital to an organizations success. The most exciting work comes from working with companies that want to lead their perspective industries.
Before joining Quid, I worked at PayScale, which was a SAAS company that helped businesses become more strategic about compensation and educate at the same time. I'm truly passionate about my work and always eager to connect with other marketers, sales associates, and HR professionals. While I enjoy all aspects of my job, I think my favorite part is working with organizations and companies that want to be strategic.
I have an MBA from San Francisco State University University and a BS from Ithaca College.
I'm always interested in hearing from former colleagues, managers, or just interesting creative folk, so feel free to contact me if you'd like to connect."
Turo - Shelby Clark
Turo is a car rental marketplace where car owners in the US, UK & Canada provide travelers with the perfect vehicle for their next adventure. Across the country or across town, travelers choose from a unique selection of nearby cars, while car owners earn extra money and help fuel the adventures of travelers from around the world. A pioneer of the sharing economy and travel industry, Turo is a safe, supportive community where the car you rent is part of a story, not a fleet. Whether it's an F-150 truck to help out on moving day, a Tesla for a luxurious weekend away, or a classic VW bus for a picture-perfect road trip, travelers rent the car and own the adventure. Discover Turo at turo.com, the App Store, and Google Play, and check out our blog Field Notes at blog.turo.com.
Shelby Clark is a social entrepreneur who is intrigued by the power of connecting people online to positively impact the offline world. Shelby has been called a pioneer in "Collaborative Consumption" or the "Sharing Economy." This movement is rapidly changing consumer behaviors in many ways, compelling people to share everything from cars to apartments to lawnmowers, united by the core concepts that access trumps ownership and value unused is waste. As an independent consultant and speaker, Shelby aims to spread these ideas to organizations around the world.
Shelby is the founder and a current board director of Turo (formerly called RelayRides), the world's first and largest peer-to-peer carsharing marketplace (Airbnb for cars), which has raised over $100M in financing from top-tier investors and now operates in over 4,000 cities in the US, Canda, and the UK. Turo spawned a global industry, garnering participation from major corporations and attracting significant press attention from hundreds of outlets worldwide.
Most recently, Shelby was the founder and CEO of Peers.org, which aimed to support workers in the sharing economy, initially by building a suite of products tailored to the needs of independent workers, and subsequently focusing on developing a system of Portable Benefits to support independent workers, who fall outside of our society's safety net.
Shelby started his career in Management consulting, and has done significant independent consulting as well, advising major corporations on strategy, project implementation, and operations.
Specialties: peer-to-peer carsharing, peer-to-peer marketplaces, sharing economy, collaborative consumption, entrepreneurship, technology innovation, carsharing, alternative mobility, startup finance, venture capital, business strategy, microfinance, international development, insurance, employee classification, independent contractor, future of work, on-demand economy."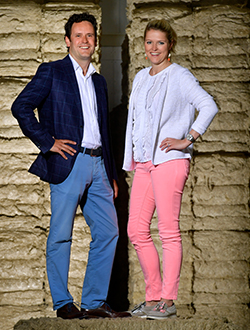 Castellins
Thomas Verhaest & Laurence Van de Casteele
Castellins produces and processes flax fibre for a range of pioneering applications, and has a strong presence in the market for short and long flax fibre. Castellins exports its products to more than 30 countries, with China being its largest market.
However, the flax market continues to be highly volatile, mainly due to major fluctuations in price, quality and production volume. Castellins does not want to be subject to these fluctuations in the sector, which is why it is actively seeking out new markets, products and applications.
Established last year, NovoFibre is a spin-off tasked with conducting research into waste flow processing. Its focus is on the production of extremely strong, lightweight composite materials that can be used in the construction of aircrafts, bicycles, furniture and waterproof flooring (a market experiencing strong growth around the world). NovoFibre is one of the first companies to combine its expertise in composite materials with extensive knowledge of flax fibre.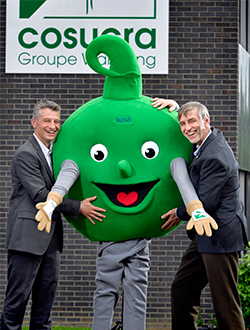 Cosucra - Groupe Warcoing
Eric Bosly & Jacques Crahay
Cosucra is active in the extraction and refining of food ingredients intended for human consumption. The company produces plant-based protein using protein-rich peas and soluble dietary fibre based on root chicory.
The company is a local player of limited size in a market dominated by multinational corporations. To stand up to these giants, Cosucra has developed a David and Goliath strategy: full commitment to the adaptability, flexibility and autonomy of its employees as a means of making a difference and achieving rapid progress.
The company's new strategy allows all employees to make decisions independently, on the basis of their expertise, with the interests of the company being the top priority at all times. This shared decision-making is not based on a traditional hierarchy of authority; rather, it rests on the power of shared knowledge and collective intellect.
This bold strategy – to increase proactive conduct in a complex environment in order to be able to respond more quickly and thereby fully exploit the limited size of the company – seems to have paid off immediately. Cosucra's growth rate has now exceeded its 10% annual target, and its employees are extremely motivated. In this ever-changing world, the challenge now is to ensure that this trend continues over the long term.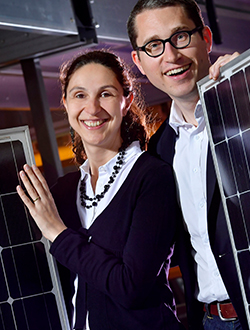 Dauvister
Valérie Michel & Yves Warnant
Dauvister SA started life as a small company specialising in central heating. Today, it is one of the leading names in the energy efficiency market in Belgium. Its core activities consist of installing and maintaining multi-energy heating installations and solar panels.
This market is known to be extremely volatile, certainly now that the energy giants are starting to flex their muscles. Where Dauvister previously faced competition from only small local central heating specialists and electricians, it now has to go head to head with the major gas and electricity suppliers.
This is why Dauvister opted to focus on strong growth in terms of technological proficiency and the smart geographical deployment of its various core areas. To achieve this, a three-point action plan was devised and implemented :
computerisation of production resources in order to optimise productivity,
partnership with EDF Luminus, one of the major players in the market,
diversification of activities to become less dependent on the residential market.
The company did not have to wait long for results: Dauvister went from 60 employees in 2014 to 135 in 2017, and its sales more than doubled over this three-year period.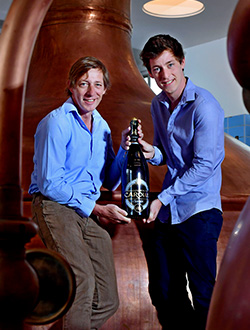 Het Anker
Charles Leclef & William Leclef
Het Anker is a family-owned brewery that has been brewing beer in the Groot Begijnhof quarter of Mechelen, Belgium, for five generations.
In 1990, when the old generation stepped aside to make way for the new, the Mechelen-based city brewery experienced an existential crisis. At the same time, they were operating in a sector dominated by major shifts, with domestic consumption falling in a highly competitive market, and special beer types undergoing a revival among consumers. This is remarkable given that it has happened in a market whose products typically have a short lifespan.
These developments proved to be the catalyst for modernisation at Het Anker. The historic site is currently being renovated, and is set to take on a more substantial social role. The company is investing in production and strategic partnerships with the intention of developing and implementing a revolutionary, environmentally efficient beer keg concept. The success of the whisky project launched by Het Anker in 2010 resulted in the company being presented with several international awards (some of which had never been won by a Belgian brewery before). This was bolstered by the success of various licensed producers under the Gouden Carolus brand (cheese, chocolate, paté). By returning to its roots as a family-operated business and demonstrating pioneering entrepreneurship in a niche market, Het Anker now has 75 employees and boasts more than 30,000 visitors per year.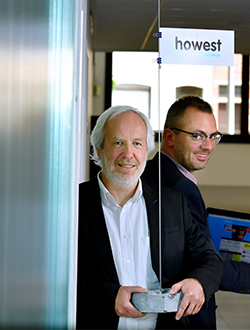 Howest – University College West-Flanders
Lode De Geyter & Roel Vandommele
Established following the merger of six colleges, HOWEST is an innovative, entrepreneurial university with campuses in Bruges and Kortrijk.
To bring the organisation, with its separate departments and obsolete structures, into the 21st century, a bold, innovative strategy had to be pursued.
The new strategic plan was devised top-down and bottom-up, with the creation of a new structure that eliminated departments altogether. HOWEST remained faithful to its new mission, vision and shared values, ultimately evolving into a centre of excellence that anticipates the requirements of society and the wider professional sphere. By tailoring its courses to be forward-thinking, and deliberately choosing new profiles, HOWEST has been able to turn a brain-drain in West Flanders into a brain-gain.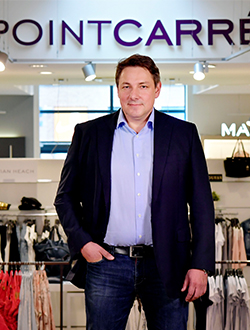 Point carré
Xavier Goebels
PointCarré is a family fashion store with 28 outlets (600 to 1,300 m2 in size) located in various small and medium-sized towns.
After more than 20 years of traditional brick-and-mortar logistics, and with growth keeping pace with the increasing number of outlets, PointCarré realised that the next stage in the company's evolution would be possible only by taking the company and its range of products online.
This decision was used as the basis to revamp the PointCarré business model. The new strategy was based on the ExConomy concept: emphasis on customer experience, ongoing experimentation, close collaboration with strategic partners, and operation within ecosystems.
The initial results have been extremely promising: sales at the six stores that have already implemented the new concept are between 20% and 50% higher than the figures recorded at the 'traditional' outlets. Customers who take advantage of the new loyalty programme spend up to 40% more on average, and visits to the store are 22% more frequent over the course of a season. The aim now is to roll out the concept across the entire network of stores.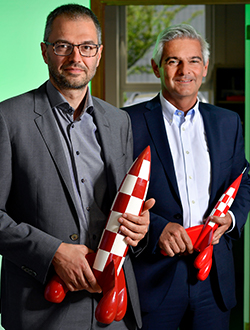 Qinetic Space
Erik Masure & Frank Preud'homme
QinetiQ Space (QS) is a Belgian company that supplies systems, instruments and aircraft equipment to the European Space Agency (ESA) and all major European space companies.
Whereas the industry used to be dominated by governmental institutions like the NSA, ESA and other military users, nowadays the market demands an approach that is more similar to that of the aviation or car industry. Technological evolutions such as Oneweb, IoT and Google Earth require constellations of smaller, cheaper satellites for commercial use. Several American entrepreneurs, such as Elon Musk, Jef Bezos and Richard Branson have already entered the market.
QS has therefore decided on a strategy that will help them expand into the market of operational missions with the ESA, and from there on into the commercial and governmental markets. This goal was reached by winning the SAOCOM project for earth observation and the SMILE project for an European-Chinese satellite. At the same time there's a large investment in the creation of additional Business Development capacity, while an interesting HR policy is supposed to attract and keep talent. The overall goal here is to become an ambidextrous organisation.
By closely monitoring the evolution of the industry and by creating a structure where new ideas can grow, QinteiQ Space has managed to compete with the Boeings of the world.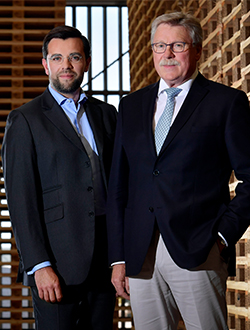 Recybois
Ulrich François & Bernard François
Recybois, a branch of Groupe François, has been producing renewable energy (cold/heat storage systems) since 2003, and operates in a range of domains in the circular economy.
The Group is seeking to make the switch to local, fully integrated energy solutions based on trigeneration (simultaneous production of heat, cooling energy and electricity). The solutions are exclusively powered by renewable energy, thanks to long-term procurement contracts under a virtualisation model that can best be described as green energy as a service.
This new strategy is initially being implemented at commercial level, with the Group set to evolve from a product supplier into a solution supplier. At the technical level, Recybois is seeking to incorporate different renewable energy sources (pellets, solar panels, wind turbines, etc.) into integrated networks.
This innovative approach has already paid off, as evidenced by the many pilot projects in development and the multiple awards the company has received for business excellence, innovation and sustainability.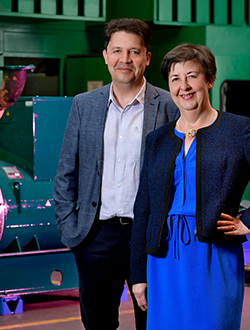 Van Wingen
Jean-pierre Van Wingen & Eleonora Van Wingen
E. VAN WINGEN NV (EVW) provides energy solutions based on internal combustion engines. The focus is on energy and energy efficiency.
The company's products are used in all sectors, from care facilities, banks and data centres, to international industrial businesses, public services and local SMEs.
To capitalise on and sometimes even anticipate market demand, the company has, with the aid of its in-house engineering team, developed its product range to feature more complex solutions that integrate emergency power supplies, cogeneration and energy control.
At EVW, innovation comes from within, triggered by climate change, environmental issues, and the move towards increased sustainability.
In terms of innovation, the company looked into cross-fertilisation via platforms such as Flux50 (De Vlaamse Energiecluster) and the Power to Gas cluster. EVW is investing in energy storage, because 100% renewable energy is not possible without storage options, or smart users and sources that strike a balance between energy production and consumption.
EVW unites innovation with sustainability in a local manufacturing company. It is following a growth trajectory where its actions and objectives are in line with its corporate vision, that is, to carve out a niche in the market and the industry of the future by providing products and services that benefit our society.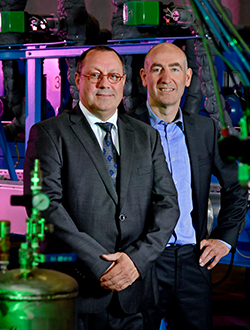 Vetex
Patrick Rigole & Geert Vermunicht
Vetex develops textile coatings, and is one of the leading companies in its sector. The products are primarily used in the clothing, medical and food sectors.
However, the company's use of solvent-borne polyurethane, which has excellent water-repellent qualities but is harmful to the environment, started to receive more and more negative attention. The call for change from Vetex's customers – primarily major clothing brands – became increasingly vocal.
Vetex therefore began to look for an environmentally-friendly, efficient, affordable and sufficiently flexible alternative. The breakthrough came in the form of OC2PUS™, optimised coatings with a unique two-component polyurethane system. This solvent-free technology has not yet been used in textile applications. With the release of OC2PUS™, Vetex becomes a global pioneer. OC2PUS™ received the Techtextil Innovation Award, and is one of the highlights of the Belgian pavilion sponsored by Fedustria at Techtextil 2017.