A BNP Paribas Fortis blocked account helps you secure your business transactions to a certain extent and to protect yourself from incidents such as non-payment or non-delivery by freezing funds in a bank account for the required period of time.
The account is opened in the name of one of the parties and the funds are only released when the contractual conditions have been met.
How does it work?
Depending on the specific details of your transaction and the risks you want to mitigate, we can help you create the solution that best meets your needs.
Both parties sign a 'Blocked account' agreement with BNP Paribas Fortis.
BNP Paribas Fortis opens an account in the name of one of the parties.
The amount specified in the contract is transferred to the blocked account.
Delivery of goods, documents or services.
Instruction is received to release the funds as specified in the agreement.
Release of the funds according to the instructions, barring legal intervention (attachment by a third party, for instance, or insolvency on the part of the account-holder).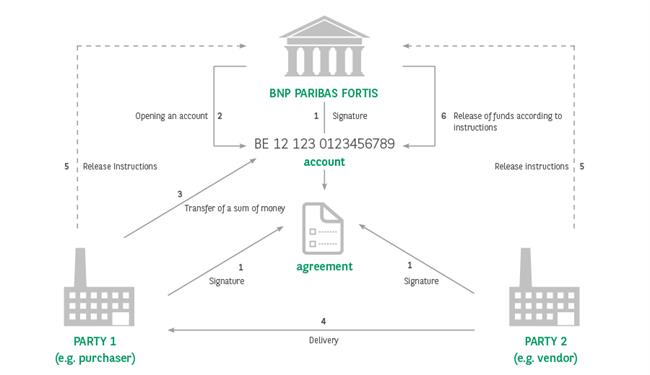 Advantages
Quick and easy to set up.
Inexpensive.
An alternative where a bank guarantee or documentary credit is not desirable or possible.
Good to know
The Blocked account agreement is a standard contract designed for simple transactions.
A Blocked account is always subject to Belgian law and cannot offer the same level of security as a true Escrow account under Luxembourg law.
Attachment of the Blocked account by a third party, for example, or the insolvency of the account-holder will prevent the release of the funds.
Interest earned by the money held in the Blocked account will accrue to the purchaser or the vendor, depending on the provisions of the agreement.
The beneficiary will have more security if the account is pledged.
Blocked Account