Financial leasing (on-balance sheet) and financial hiring (off-balance sheet) are medium-term leasing products that enable you to finance the purchase of rolling equipment, IT equipment and industrial machinery (*).
How does it work?
You choose the equipment/vehicle and supplier and negotiate the purchase price.
After accepting the file, we send the agreement for you to sign.
Once the agreement is signed, we place the order with the supplier.
You take delivery.
After you receive and accept the goods, we pay the bill directly to your supplier.
You begin to make the lease payments.
At the end of the agreement, unless stated otherwise, you can choose to exercise the purchase option at a predetermined price, renew the lease or return the equipment.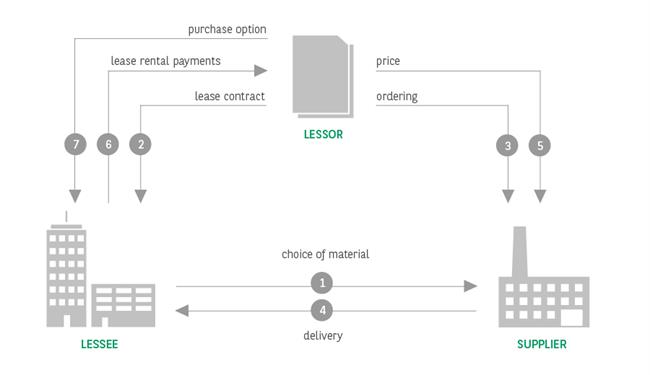 Advantages
Financing up to 100% of your investment, excluding VAT.
Prefinancing of the VAT, which is spread over the entire term of the agreement.
Free choice of equipment and supplier: any type of equipment can be purchased with this type of leasing: rolling equipment (cars, trailers, trucks, etc.), machine-tools, construction plant, IT equipment, etc. And all of this from the supplier of your choice.
Fixed or variable lease payment: you decide. Transparent pricing means you know exactly what to expect.
Free choice between on-balance sheet (financial leasing) and off-balance sheet (financial hiring) variations. The main difference between the two relates to the terms of the purchase option at the end of the agreement.
Simple, reduced administrative formalities: you only have to make the lease payments, nothing else. You can pay by direct debit, so you don't have to worry about it any more.
Purchase option at the end of the agreement.
Positive impact on your working capital and maintenance of your investment capacity.
Good to know
A purely financial solution, which does not entail any extra service. Any insurance or maintenance charges are payable by you.
We become the legal owner of the equipment, while you are the economic owner enjoying full use of it.
Your lease payments are fixed contractually and depend on:

The net investment;
The term of the lease;
The purchase option.

The term of the agreement corresponds to the economic life of the good (24 to 60 months). An exception is made for IT equipment, which is subject to more rapid obsolescence. The term of the agreement in this case is between 18 and 36 months.
In Belgium, financial leasing and financial hiring come under the legal framework of non-real estate leases, as regulated by the Royal Decree of 10 November 1967.
Useful link(s)
(*) Financial leasing and financial hiring are offered by BNP Paribas Leasing Solutions, a specialist subsidiary of the BNP Paribas group.
Financial leasing and financial hiring