Solution
Real-estate leasing
Real-estate leasing is a form of long-term finance, both on and off-balance sheet, enabling you to use a commercial property that we buy or build for you according to your wishes (*).
How does it work?
You choose the architect and the contractor(s).
You obtain the necessary permits and certificates.
Following acceptance of the project, we send you the agreement to sign.
Having signed the agreement, you will receive authorisation to sign the necessary contracts with the architect and the contractor(s) on our behalf.
Once the relevant legal documents have been formalised, we will pay the invoices, subject to approval by you and the architect.
You start making your lease payments once the agreement has been received.
We are the owner of the building, you are the tenant.
At the end of the lease, you have the option to buy the property at a predetermined price or to go on renting it.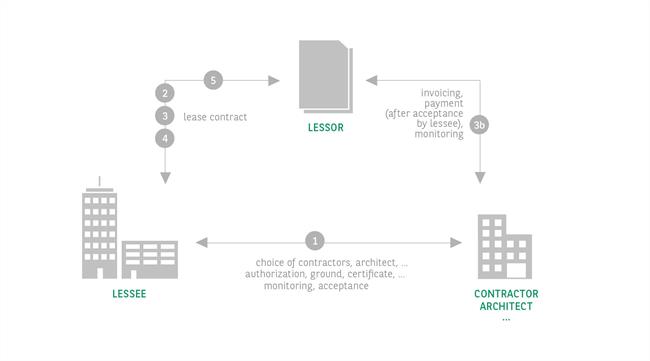 Advantages
100% financing of your investment.
All-in solution, tailored to your wishes.
Consistent rental payments.
Prefinancing of the VAT: the VAT on new buildings for professional use can be reclaimed.
Purchase option at the end of the agreement.
Good to know
Real-estate leasing is available as both financial (on-balance sheet) and operational leasing (off-balance sheet).
The agreement cannot be cancelled and the term is generally 15–20 years. Lease payments:

Are fixed contractually;
Depend on the capital invested by BNP Paribas Fortis Leasing Solutions;
Can be monthly, quarterly or annual, fixed or variable;
Can be paid in advance or arrears.

Insurance, property withholding tax, maintenance and repair charges are payable by you.
Real-estate leasing is only intended for buildings, excluding high-risk properties. It cannot be used to purchase land.
Real-estate leasing agreements are drawn up based on the legislation governing rents, building rights and leasehold.
Useful link(s)
(*) Real-estate leasing is offered by BNP Paribas Leasing Solutions, a specialist subsidiary of the BNP Paribas group.
Real-estate leasing